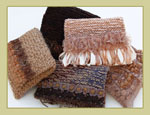 Hello.... and welcome to Nancy Siegel Purses!
Check out the Articles & Press Section!
NancySiegelPurses is in the news!
This site holds a collection of purses that I have designed with the feminine fashionable woman in mind. All of these purses are designed and hand-crafted by me - with love and attention to every detail, keeping the focus on beautiful fashion and soft touch and feel - exactly what every woman wants! The outside trims and embellishments make these purses perfect whether you are wearing your favorite evening outfit or are out for the night in jeans and pumps!
The bodies of the purses are either hand-knitted by my hand or constructed from fabric, with the inside being completely lined with beautiful fabrics that complement the detail on the outside of the purse. The inside fabrics are lovely additions to the gorgeous look of each of the purses, making the inside of the purse as special as the outside design. Each of the interiors are trimmed with interesting borders, in keeping with the overall look and giving each purse that special finishing touch.
All of the purses also have a perfectly coordinated hand-beaded strap that allows the bag to hang comfortably on the shoulder yet can be easily removed for those occasions when you want to carry just a clutch. Each strap is designed with a perfectly selected chain which falls right on the top of the shoulder and keeps the purse in place. The beads are hand chosen and assembled to continue the feel of femininity and fashion of the purse. The straps are so beautiful you almost don't need additional jewelry in your ensemble!
Sizes vary slightly but are generally about 8" wide and 7" high. The actual size of each bag is noted on it's details page.
Browse through the purses, enjoying their beauty and design and order them for your own wardrobe or purchase them as gifts for the special women in your life. Treat yourself to an exquisite Nancy Siegel!
If you have any questions - feel free to email me. I check my email frequently during the course of each day and look forward to hearing from you! I hope you enjoy your Nancy Siegel Purse as much as I have enjoyed creating them!