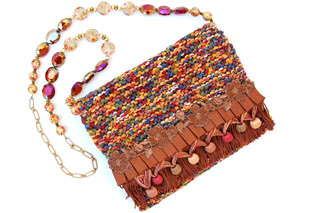 Ruffled Jewel measures 7"W X 6"H. In deep jewel tones, this purse brings warmth to the look of almost any outfit. With copper as a main accent, the colors in the purse combine together to give an overall depth of rich jewel shades. The top flap is embellished with 4 layers of varying texture and color, while all staying within the same overall color scheme. The bottom layer is the deepest in the copper family as the fringe provides a delicate background for the layers to come. It is topped with a row of fabric beads that complement the colors in the yarn and becomes a transition between the fringe and the next layer of pleated grosgrain copper ruffle. The top layer finishes it off with a copper and rose floral applique.
The inside is lined with a perfectly matched print fabric that picks up the colors used throughout the bag.
The strap is 31" long. It is comprised of beads in various shades of copper, rose, magenta and pink. An antique gold chain allows the purse to rest comfortably on the shoulder. In addition, the strap is removable, allowing the bag to be carried as a clutch.