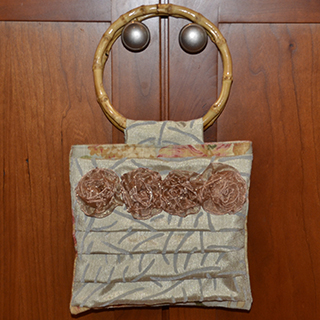 "Mint Rose" measures 8"W x 7 1/4"H; 13"H with the handle. The body of the bag both inside and out is made from a woven print fabric in colors of soft blue, mint green, tan and rose. The front of the bag is covered in ruffles of a very finely woven soft pale green fabric that is scattered with soft wavy lines of a smokey blue/grey velvet-like pattern. The top section of the front of the purse has 4 very soft sheer taupe roses.
For additional information
about "Mint Rose", please
email me. I'd love to hear from you!
Price: $125.00
This purse can be purchased at my online shop on Etsy.com. My purses are showcased on Etsy as well as this site so feel free to look at my line on my Esty Shop. Online purchases can only be made through my Etsy Shop.