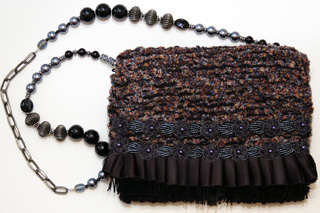 Midnight Sky measures 8"W X 7"H.
The body of the purse is constructed from a very soft black textured yarn, while the flap of the purse is a soft chenille yarn of multiple shades of blue, red and tan. The embellishment on the top flap consists of a row of black fringe, topped with a row of black satin ruffle and the finally topped with two rows of embroidered gunmetal colored flowers with patches of hematite beading in between.
The interior of the bag is lined with
a black patterned fabric and is trimmed with a matching black edging.
The strap is 34" long. It is designed with
a combination of black, gunmetal and silver beads. A medium silver-colored chain allows the purse to rest comfortably on the shoulder. In addition, the strap is
removable, allowing the bag to be carried as a clutch.
For additional information
about Midnight Sky, please
email me. I'd love to hear from you!