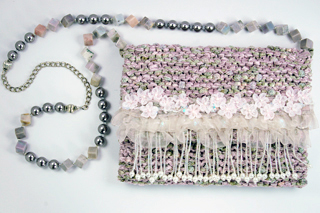 Lilac Sparkle measures 7.75"W X 6."H. It is created with two yarns; a very soft pale seafoam green yarn with accents of glitter, in combination with a pale lilac ribbon yarn. The embellishment on the top flap consists of a double layer of sheer organza ruffle and is sprinkled with sequins and topped with delicate sheer pink flowers. Hanging just below the organza ruffle is a row of long translucent and pearl beads.
The interior of the bag is lined with a shimmering silver and white fabric that coordinates beautifully with the body of the purse.
The strap is 34" long. It is designed with
a combination of squared grey, pink and lavender beads and silver color round beads. A silver tone chain allows the purse to rest comfortably on the shoulder. In addition, the strap is removable, allowing the bag to be carried as a clutch.
For additional information
about Lilac Sparkle, please
email me. I'd love to hear from you!