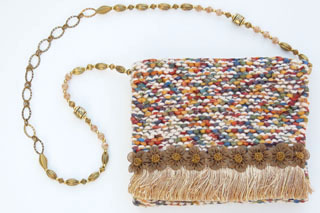 Jewel Daisy measures 7"W X 6.25"H. It is created with two yarns; a soft multi-colored jewel tone yarn in combination with a coordinating ribbon yarn. The embellishment on the top flap is trimmed with a gold fringe and topped with deep gold organza flowers that run the width of the purse.
In keeping with the yellows and golds in the yarn, the interior of the bag is lined with a multi-toned gold fabric with accents of color that coordinate beautifully with the body of the purse.
The strap is 32" long. It is designed with
a combination of gold beads that bring out all of the warm jewel tones in the rest of the purse. An antique gold-colored chain allows the purse to rest comfortably on the shoulder. In addition, the strap is removable, allowing the bag to be carried as a clutch.
For additional information
about Jewel Daisy, please
email me. I'd love to hear from you!