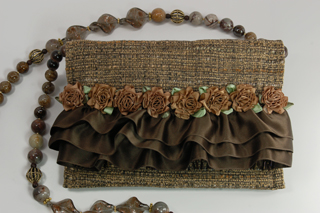 Chocolate Rose measures 8"W X 5.5"H.
It is constructed of a soft brown and tan woven fabric.The flap is adorned with a row of bronze beads that is topped with 3 rows of soft chocolate brown satin ruffle. Finally, the top layer finishes it off with a row of caramel colored satin rosettes.
The inside of the bag is fully lined with a brown and gold metallic fabric and is edged with a brown zig zag trim.
The strap is about 40" long and is hand-beaded with brown, glass and gold tone beads.A gold-tone chain rests comfortably on the shoulder.
In addition, the strap is removable so the purse can be carried as a clutch.