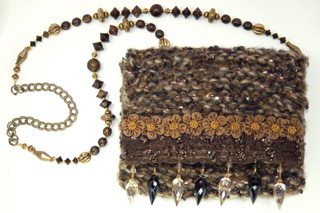 Chocolate Bronze measures 8" W X 6.5" H. It is crafted of various yarns one of which is an irridescent multi-colored bronze/copper silk ribbon. This silk yarn runs through the entire bag. The other yarn is a variegated yarn with browns, creams and black. The edge on the top flap is a vintage style chocolate lace, dotted with miniature bronze beads. The flap is topped with nine bronze organza daisies. Tear drop black and pale amber beads hang from the flap.
The interior of the bag is lined with a
coordinating fabric, in bronze that is
dotted with small black diamond-shpaed designs. The lining is edged with a narrow black trim.
The strap is 40" long. It is designed
with dark wood, antique gold and bronze
beads, as well as burnt gold chain that allows the bag to rest comfortably on the shoulder.
For additional information
about
Chocolate Bronze

, please
email me. I'd love to hear from you!